914-977-0608

The Importance of Second Chances
When Westchester Magazine's Carol Caffin approached us looking for examples of "people given second chances, where it worked out for them", we were intrigued. Second chances? How about third chances? Or fourth chances?
We are not sure Carol knew what she was getting into when she asked substance abuse counselors about second chances, but we are glad she asked. And now our own Robert Anderson, Executive Director of The Counseling Center at Yorktown Heights, will be featured in an upcoming issue of Westchester Magazine.
As professionals in substance abuse treatment, we strive to help remove the stigma associated with relapse, and to educate people on the topic of "success" and "failure" in substance abuse treatment, and recovery.
Second Chances are Essential in Substance Abuse Treatment
Relapse is a normal part of recovery. It is not desired, but it is to be expected. Relapse is not failure. In fact, as long as there is an expressed desire to continue to do the work of recovery, and to seek treatment as needed, and to continue to make life changes as required to break free of addiction and addictive substances, the efforts expended towards recovery are all "success".
Everyone Willing to Accept Help, Deserves Another Chance
As Rob demonstrates in the telling of his own story, there is no need to label an opportunity as a "second chance" vs. a "third chance" when speaking of recovery. There is a personal dynamic to addiction disorder and recovery, in addition to the physical, emotional, and mental challenges, that must be acknowledged and nurtured. Recovery is a process involving whole lives, and requiring great commitment.
Perhaps most important of all, there is always hope for recovery. Always.
The Treatment Industry's Role Models
Robert Anderson chose to tell Carol his own story of substance abuse and recovery for the Westchester Magazine article, and we are glad he did. Perhaps, as it does in real life for participants at The Counseling Center, Rob's story and his living example of 20 years of personal and professional success in recovery (after many tries and numerous challenges), will help others seek the help they need to make necessary changes in their own lives, and to see past the labels of "chances" and "tries", to see the hope that we know is there.
We look forward to seeing the Second Chances feature debut in Westchester Magazine, and are glad to help support it.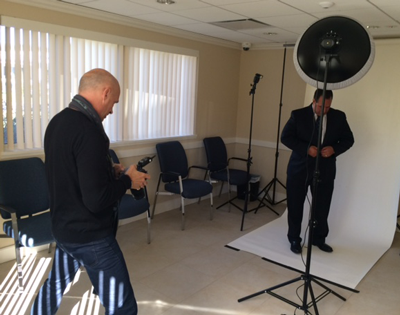 Rob Anderson preps for the camera, as Westchester Magazine photographer prepares to capture his portrait for an upcoming feature "Second Chances".